REVIEW: LESLIE KRAFKA'S "ON.WARD."
POSTED ON APR 24, 2014 IN AMERICANA MUSIC, NEW RELEASES, REVIEWS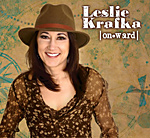 by Paul T. Mueller     
For a testament to the respect Leslie Krafka has already earned in Texas music circles, check the credits on her second album, on•ward. The Houston-based singer-songwriter enlisted a cast of experienced, talented musicians for this project, and the album's 11 tracks – 10 written by Krafka and one well-chosen cover – for the most part are worthy of the all-star team.
 Krafka has a way with narrative, and many of on•ward's songs are stories about love – looking for it ("I Want Love," "Stay With Me"), finding it ("Magdalena"), saying goodbye to the bad kind ("Wine Women and Song"), saying goodbye to the good kind ("The Pain of Losing You"), and finding a substitute for it ("Whiskey High"). The writing is strong for the most part, and the playing is excellent.
The music has a pop feel, with country and folk overtones courtesy of accordions, fiddles and steel guitars. Co-producer Lloyd Maines' pedal steel helps turn "South Texas Fall" into a serious country weeper. A couple of songs ("Beauty" and "Jewel") take a more optimistic tone. For her one cover, Krafka turns "Drunken Poet's Dream" (written by Hayes Carll and Ray Wylie Hubbard), into a first-person account, adopting the voice of the title character. The album closes with "Freedom Train," the story of a slave's journey west to a new life.
There's  nice work on production by Maines and his musical partner, Terri Hendrix – the album has a clean, sharp sound that showcases Krafka's fine voice. Maines and Hendrix also supplied vocal and instrumental parts; other contributors include such Texas notables as Riley Osbourne on B-3 organ, Bukka Allen on accordion, David Spencer on electric guitar, Richard Bowden on fiddles, Rick Richards and Pat Manske on drums, and Jack Saunders on several stringed instruments. It adds up to a successful sophomore effort that holds promise for the future.
Follow Sun209 on Twitter at @Sun209com.